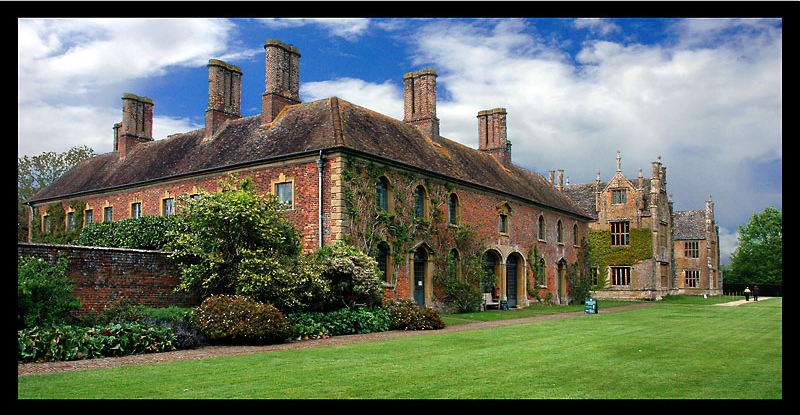 The Nott estate is just outside St. Neot, Cornwall and sits on fifty acres of land, approximately. The walls are decorated with portraits and tapestries the family had commissioned throughout the past several centuries, including a fair number of Northern Renaissance etchings and paintings. Three dozen sculptures are also scattered about the rooms. Rooms are filled with hand-carved wood furniture overstuffed with cotton and down feathers. Everything in the house is made up of shades of brown, grey, green and blue, mirroring the colors of nature surrounding the old stone home. Every chair, bed and couch in the place is comfortable, causing you to sink into it. Lighting is exclusively provided by candles throughout which sit nestled into wrought iron chandeliers and candelabras, all of which match the wrought iron banisters, windows and doors. All of the wood in the house is Oak, Walnut and Redwood, including the floors.
Exterior
Edit
The Nott Estate is known in particular for its gardens. There are four gardens that are all walled in. One is specifically a produce garden, one is entirely filled with roses and lilies and the last is mixed. The flowers and vines climb up these walls, making them mostly invisible barriers. The grounds also have stables which have not been used in about a generation and a pond in the back.
Interior
Edit
The inside of the Nott Estate was more or less gutted by Theodore after the passing of his father, Theodore Romulus, when the family estate came into his hands. He replaced the typical, rather gaudy, wallpaper and furnishings with more earthy wood panels and very comfortable furniture. There are two libraries in the house. One is the general library which covers two floors and much of the hall, and the other is Theo's personal library which is one the second floor door the corridor from his bedroom. The ballroom takes up the entirety of the east wing, but Theodore has not opened the ballroom since the death of Penelope Clearwater in December. There are several sitting and smoking rooms throughout the three floors of the house, as well as twelve suites (bedroom, bathroom, sitting area).