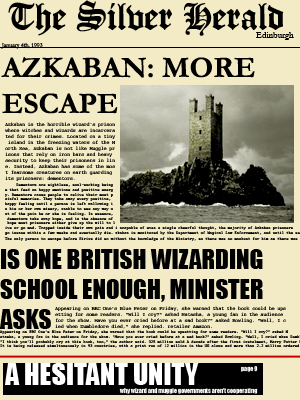 Editor-in-chief/owner: Sir R. Scott
Managing editor: Jaden Dorny
Established: 1781
Format: Broadsheet
Circulation: Daily
Political allegiance: Independent/centre-left
Offices: 19 Charmers Street, Edinburgh
The Silver Herald is a national Wizarding broadsheet published seven days a week in Edinburgh, Scotland. It has an audited circulation of 65, 000, making it the best selling Wizarding newspaper in the country.
First published in 1781 as The Silver Advertiser and changing to The Silver Herald in 1880, the paper became daily in 1812 and has since been the fastest selling Wizarding press in the country next to The Daily Prophet. Ownership was required by the Scott family in 1876, and its first editor was Gerald McKlane.
The Herald is renowned for its contrasting political opinions, and its majoritarian approach to news. The stereotypical Herald reader is politically centre-left and somewhat liberal, or interested in both sides of the political spectrum. These qualities are directly portrayed in the newspaper's style and content.